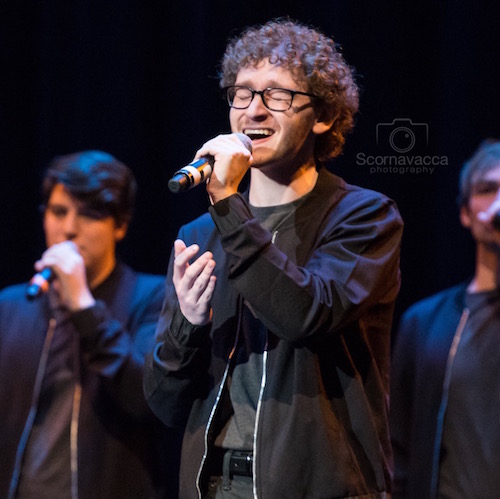 Singing with Berklee College's Upper Structure A Cappella at Varsity Vocals ICCA Quarterfinal 2017. Photo Credit: Lauren Scornavacca
Samuel Dantowitz It Takes Two: An Evening of Broadway Duets
The Barbershop Club at Berklee
Caroler & Doo Wop Singer, Leader/Coordinator
Fall 2019: Leader and Coordinator, hiring and organizing ensembles for 100 performances.

Fall 2016-Present: The Downtown Boston Business Improvement District's holiday season caroling program and summer doo-wop program.
Pitch Slapped A Cappella
Fall 2018-Present: Samuel is thrilled to be a member of Pitch Slapped, one of the world's premier co-ed a cappella groups. Their latest album, Sincerely, is available on iTunes and Spotify

Fall 2019-Present: Business Manager
Berklee's Point of Departure Vocal Jazz
Fall 2017-Present: Member of Berklee College of Music's premiere student-led vocal jazz group, performing in the Boston area, and recording student arranged music. Their debut album, Circadian, is on iTunes and Spotify

BOCA 2018: Best of College A Cappella
Upper Structure's recording of "She Used To Be Mine" by Sara Bareilles with Samuel on the solo was selected to be included in Varsity Vocals' BOCA 2018: Best of College A Cappella.

BOCA 2018: She Used To Be Mine (over 292k plays on Spotify)

Upper Structure A Cappella
Fall 2016-Spring 2018: Upper Structure, recorded the album Bridges, available on iTunes and Spotify. Video: She Used To Be Mine. Placed 2nd in Varsity Vocals' 2018 International Championship of Collegiate A Cappella (ICCA) Finals.
Spring 2017-Spring 2018: Business Manager

Berklee College of Music
| | |
| --- | --- |
| | Graduating in 2020, Samuel began his studies at Berklee College of Music in 2016, pursuing a Bachelor of Music in Professional Music and designing his own major with concentrations in Music Business and Music for Special Education, with a Minor in Psychology. In addition to his studies, he has pursued his passion for A Cappella, Pop, Broadway, Vocal Jazz and Barbershop Harmony. |
Summer 2016: A Cappella Academy
| | |
| --- | --- |
| | Samuel was thrilled to be one of the 71 students, world-wide, accepted into A Cappella Academy 2016 founded by Avi Kaplan (bass from Pentatonix), and Sing-Off arrangers Robert Dietz and Ben Bram. |
Before Berklee
Samuel dove into Musical Theatre at an early age, performing in community theatre and school musicals. He also spent 7 seasons studying at The Paper Mill Playhouse Summer Musical Theatre Conservatory.

In High School he was a member of Millburn's Soulfege A Cappella and made three appearances with the group on Lifetime TV's Pitch Slapped. Samuel loves performing both pop and broadway songs and is often found at the piano.